Recherche
DynVolc - Dynamics of Volcanoes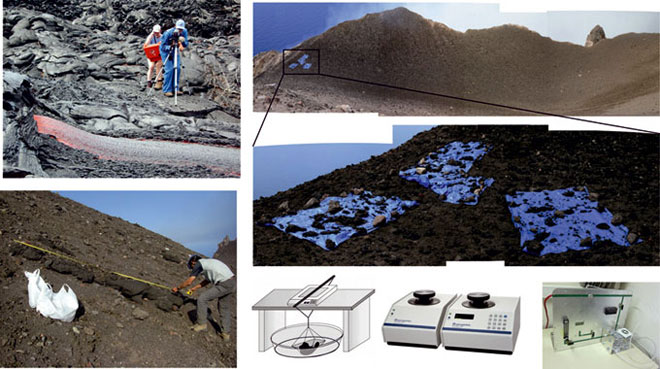 STATEMENT OF INTENT
DynVolc is an observation system within France's National Service for Volcanological Observation (SNOV).The system contributes complete, integrated, data sets for eruptive products from:
field studies (i.e., field mapping, outcrop and sample descriptions),
textural analysis (i.e., particle size and size distribution, morphology, density, porosity, connectivity, permeability and vesicle and crystal size, distribution, shape and orientation),and
chemical data (i.e., bulk and glass chemistry).
At an active volcanic system, the aim is to obtain observational and sample-based data in parallel with available geophysical measurementsto better understand the eruptive activity.
In case of unrest at the French volcanoes (Piton de la Fournaise, Soufrière, Montagne Pelée) , this observation system provides textural and chemical data for pyroclast and lava monitoring during a crisis.
DynVolc provides three main deliverables:
(1) Textural and chemical quantification of (i) pyroclasts (bombs, lapilli and ash) and (ii) lava samples to provide:
Evolution of magma degassing, rheology and fragmentation with time and space, from the deep source through the conduit to the plume;
Evolution, in time and space, of lava flow rheology, dynamics, morphology and chemistry;
Ground truth and validation data for remote or geophysical measurements;
Input for geophysical data reduction to allow meaningful parameter extraction;
Constraints for, and input into, physical models;
(2) Routine measurements on pyroclasts and lava samples to track physical variations in time, in terms of:
Particle size,and particle size distribution;
Particle componentry
Particle morphology
Particle density and porosity;
Vesicle connectivity;
Particle permeability;
Particle bulk and glass composition and bulck geochemistry (in collaboration with I Vlastelic) ;
Ash morphology (in collaboration with JL Le Pennec and S Leibrandt)
These routine measurements are performed on samples collected for past and current volcanic activity. Data are being made freely available through the DynVolc portal. These measurements are aimed to provide quality and standardized data sets for pyroclastic and effusive samples.
(3) An integrated data base comprising:
Field data;
Textural and chemical analyses; and, when possible,
Field and sample data collected in parallel with geophysical measurements.
This is an effort sanctioned by OPGC, LMV, Labex ClerVolc, ESF-MEMOVOLC and IAVCEI.
This is DYNVOLC
Welcome
Use of the data
© 2013, DYNVOLC (OPGC/LMV, IPGP). Data can only be published with permission.
http://dx.doi.org/10.25519/DYNVOLC-Database
TAKE ME TO DYNVOLC virtual observatory data base
Scientists in Charge
Lucia Gurioli (Physicienne, OPGC), Andrea Di Muro (Physicien, OVPF, IPGP)
Contributors
Ivan Vlastelic (CR1-CNRS, LMV), Patrick Bachelery (Prof, UBP-UFRST, LMV), Andrew Harris (Prof, UBP-UFRST, LMV)
Technical staff (OPGC)
Sandrine Rivet (IE-ITARF, OPGC), Emmanuel Delage (IE-CNRS, OPGC)
Technical Support (LMV)
Christophe Constantin (T-UBP-UFRST), Jean-Luc Devidal (IE, UBP-UFRST), Claire Fonquernie (T-UBP-UFRST), Jean-Marc Hénot(T-CNRS, LMV), Mhammed Benbakkar (IE, UBP-UFRST),